Musical Connections
Throughout the generations music connects people to one another. Right now, you could be listening to the same song that someone from the 1800s listened to, or maybe you could be listening to the same song that your parents listened to on their first date. Music is an invisible string that connects all different kinds of people, allowing them to share, if nothing else, one similarity: a song.
Seniors graduate from high school every year, and this year the graduating seniors were born in 2004 and 2005. Just as the graduating seniors will change the shape of the world, music from the 2000s shaped music for many years to come. A plethora of albums from the 2000s are still listened to now, 17 or 18 years later. So, to honor this year's graduating seniors: what are some of the most favored albums of 2004 and 2005?
Even though they were much younger when the music came out, seniors still listen to those songs now. Some of their favorite artists even produced music from their year of birth. Popular albums such as Demon Days by Gorillaz or Love Angel Music Baby by Gwen Stefani are prime examples of this. We all know the iconic songs Hollaback Girl or Feel Good Inc whether you remember the title of the song or not.
Senior Addison Ricardson shares that her favorite 2005 album is From Under the Cork Tree by Fall Out Boy. Fall Out Boy is a four-member rock band who, even now, have 21 million monthly Spotify listeners. Two of their top five songs come from the 2005 album, From Under the Cork Tree, once again proving the long-lasting impact of music from the birth year of this years' graduating class.
Sophomore Olivia Casing says one of her favorite albums is Three Cheers for Sweet Revenge by My Chemical Romance.
"The [album's] storyline is very interesting, spooky, and unique. Also, My Chemical Romance just makes really good music," said Casing.
This album is from 2004 and even so, I see its cover on t-shirts around school now. The album is what made the band earn attention. Some songs from the album like I'm Not Okay (I Promise) and Helena are extremely popular now just as they were 18 years ago.
Music remains a connecting factor between many different types of people. As this year's graduating class leaves the school, we have music to remind us of them, a song to share between us.
Leave a Comment
About the Contributor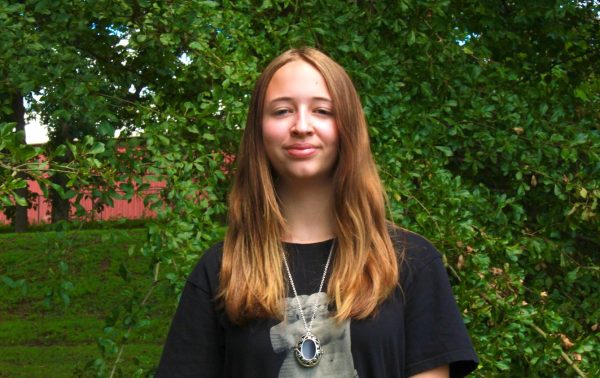 Annabelle Scott, Design Editor
Annabelle Scott is a junior and it's her second year on the Evergreen Magazine staff. She decided to join the class because of her love and interest in writing. When she is not writing, Annabelle loves to read dystopian books and listen to as much music as possible.