A Break From Us
It's cold outside without you.
My skin feels rough because you're not holding me.
The emptiness that I'm feeling is so suffocating;
now hollow breaths fill my lungs.
I miss your presence.
My heart cracks because you're no longer a part of me.
What was once myself has become my past,
a breakup with my own being.
I find myself mourning our times together.
Or am I mourning your mental health?
Crying because of your suicidal thoughts?
Screaming because of your silence?
Hurting because of your superficial happiness?
Why would I cry for what is not mine anymore?
How could I cry for
what is now a figment of my imagination?
It's because I'm no longer us.
Now I laugh at what you cried for,
I love what you hated,
I dominate what you submitted to,
and as of recently, honored myself.
So, I cry for you because you weren't strong enough to do it for us.
I ignore the cold outside.
I hold myself tight when I feel rough,
and I take the deepest breaths possible.
The discomfort is reassurance:
reassurance of my strength,
reassurance of my success,
reassurance of our differences.
Leave a Comment
About the Contributor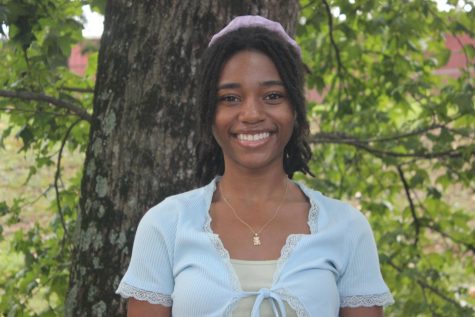 Amana Ridore, Fiction/Poetry Editor
Amana
Ridore
is a senior this year and is
the
editor of the fiction and poetry section
of the Evergreen Magazine.
This is her first year on the
Evergreen Magazine
staff and she joined because of her love for creative writing. Amana
s'
other hobbies include acting, reading, and
dancing
. She loves everything pink including the brain, so in college she plans to study neurology.