Eat Mor' Chikin'
Why did the chicken cross the road? Because it was Sunday, so he went home since Chick-Fil-A was closed. But there is no animosity because few fast-food restaurants have an efficient, friendly, quick environment and delicious chicken. Compared to Zaxby's, I would choose Chick-Fil-A any day.
I was in second grade the first time I tried Chick-Fil-A and hands down it was the best chicken I have ever eaten from a fast-food restaurant. My typical order is their 8-count chicken nugget meal. I always get their signature waffle fries, lemonade, and of course zesty buffalo sauce.
One restaurant I have always seen people putting head-to-head with Chick-Fil-A is Zaxbys. I will admit Zaxbys is good, but it's definitely not better. Zaxbys Chicken reminds me of chicken strips that I could find in the frozen aisle at Kroger. I could probably find their fries in that aisle as well. Even though Zaxby's has zax sauce, Chick-Fil-A has the staple Chick-Fil-A sauce along with seven other flavors. So, they have more options than Zaxby's.
Chick-Fil-A constantly has new seasonal items coming out too. For the fall they have their autumn spice milkshake, and their cloudberry sunjoy for the summer. The cloudberry sunjoy is a new drink. It is lemonade with tea and the flavors of cloudberry. They also have a variety of ways they make their chicken: grilled, fried, strips, spicy, sandwiches, and nuggets. They even have wraps and salads if you want to be on the healthier side.
Besides for their delicious food, Chick-Fil-A is always very convenient. With both my brother and I having practice three days a week, it's hard for my family to make dinner every night. It is super easy to order food through the Chick-Fil-A app and go pick it up after practice. Also, when I order through the app or upload my receipt, I get points that I can later redeem for free food.
When I dine in at Chick-Fil-A it is always a wonderful experience. The restaurant is very clean, and the employees are extremely kind. I have never encountered a rude employee or even someone that seemed like they didn't want to be there. Every time I go to Chick-Fil-A, I can't leave without hearing the signature phrase, "my pleasure."
Zaxby's tenders, their sandwich, even their salads, but nothing seems to compare to Chick-Fil-A. Yes, I have tried the Just Bare chicken nuggets from Costco that blew up on Tik Tok last year. If you haven't heard of the Just Bare chicken nuggets, they were supposedly the off-brand version of Chick-Fil-A. I will admit they were good. Yet, it doesn't replace everything that comes with my typical Chick-Fil-A order.
Leave a Comment
About the Contributor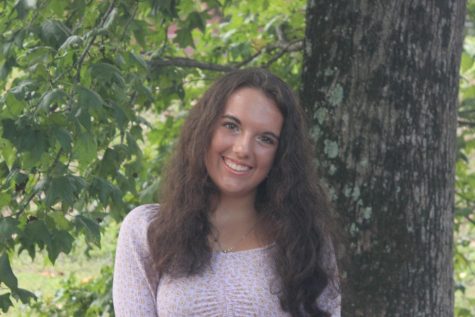 Ayva Richards, Reporter
Ayva
Richards is a sophomore, and this is her first year on the
Evergreen
Magazine
staff. She joined because of her interest in current events in sports.
Ayva
has been playing soccer since she was only four years old and still has lots of love and passion for it.