The Better Option
On December sixth, the race between Raphael Warnock and Herschel Walker will determine Georgia's future; whether positively or negatively, it remains to be decided. The suspenseful tension between the ideas of what and who to believe can be seen with the allegations against Herschel Walker. There were allegations from Walker's own son claiming that he has had violent outbursts as well as people commenting on the fact that he cannot say a structured sentence when debating or giving a speech. Raphael Warnock is the opposite; therefore, it would be in our favor if he were to remain senator. From Walker's violent tendencies to his gibberish debate sentences, Herschel Walker is not qualified to be the next Georgia senator.
Herschel Walker has done things in the past that would deem him a hypocrite. His son, Christian Walker, has come out to say that his family told him not to run for office. At first, Christian had supported the idea of his father running for office because he thought he would own up to past mistakes and take accountability; however, that was not the case. In a series of since deleted tweets, Christian explained how his father is also the father of three other children; all whom Walker himself has not been open about. His son accuses him of being a 'dead-beat' dad because he never owned up to his problems. He wishes for his father to be there for his other children.
Walker is not qualified to run for office; he lied about his past. He claims to have graduated from the University of Georgia in the top one percent of his class, a total lie. He left college to join the NFL and never went back to finish university. Why would he lie about something that can easily be searched up to verify?
It is known that Walker supports banning abortion. Walker has fathered three other children who he has omitted. If he is so against abortion, why would he not acknowledge his own children? A woman who has asked to be unidentified due to privacy reasons has claimed that he paid for her abortion in 2009 which he urged her to get. Along with the check, he sent her a "get well" card. She also claimed that he said it was not the right time for him to have a child, yet he has stated that there should be no exception to abortion. His frequent lies make him unreliable; a far better option is to vote for Warnock.
Reverend Raphael Warnock grew up learning to work hard. In 2017, he was named the chair of the New Georgia Project, a non-partisan organization that has efforts to help people register to vote. He has helped over 400,000 people in Georgia vote. He was the first black man to be a senator from Georgia. Warnock protested for Medicaid outside of the state capitol and when asked to leave he refused, resulting in his arrest. Ensuring Medicaid is important for many peoples' lives and Warnock is doing his part, speaking up for those who cannot be heard. By voting for him you will be certain that Georgia is a worthy place to live.
Leave a Comment
About the Writer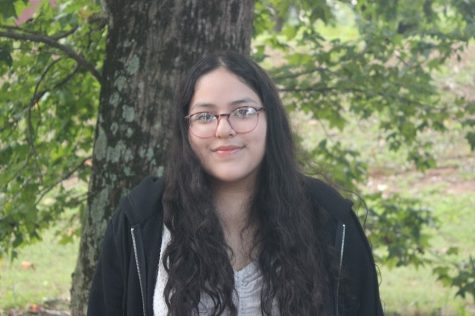 Tania Bernal, Writer
Tania Bernal is a junior, and this is her first year
on
the Evergreen
M
agazine
staff
. She join
ed
because of her love for writing and getting to know others at Sequoyah High School. Tania loves to hang out with her friends and go out with family.